Brett and Nate like to punish themselves. They proved it by getting up early and going for a run our very first morning in town. It wasn't a long run, but it was on the cobblestone streets of Antigua, which can't be fun. A few minutes after they came back, Brett got a message from someone he knew when he was on his mission here years ago, who just happened to be in Antigua with his girlfriend for a cake piping class. The friend saw some crazy gringo running and thought to himself, "Who comes on vacation to go running?!?" I have to admit the same thoughts have crossed my mind. Seconds after thinking that, Josue realized he recognized the crazy gringo, so he sent Brett a quick message that said, "Are you running on the streets of Antigua Guatemala?!?". So we setup a time to go to lunch with him and his girlfriend who Brett also knows from his mission. It's definitely a small world.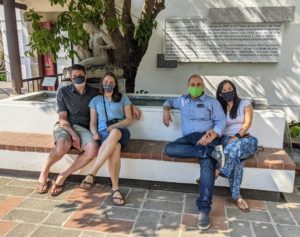 Josue and Jen arrived at our house about 1:30 and we headed out. Traffic in Antigua was insane. It's the final Sunday of Lent before Santa Semana, the markets are open, etc. Es una locura. It took us almost an hour to cross the city (which normally takes 20 minutes to cross on foot). We made our way up the side of the mountain to the "new restaurant" (as named by our landlord in an email she wrote 12+ years ago). The name of the restaurant is El Tenedor del Cerro, which means the fork on the hill.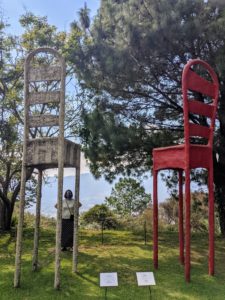 It's pretty swanky and nice, but at 2:30 on Sunday afternoon there was a 1 hour wait. Luckily there is also a big art museum and a set of ziplines up there to give you something to do while you wait. The ziplines look like they would be great for kids, so we may go back just for that at some point, but today we saw the art. We spent about an hour walking through the various exhibits, some outside in the gardens, some inside various buildings.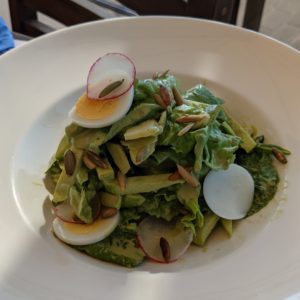 When an hour had passed we were seated under a tent to block the sun. There was a nice breeze and the temperature was amazing. The restaurant doesn't try to rush you through anything and we enjoyed our time talking and eating. Jen started things off by getting us a carpaccio appetizer that was really good. Charmaine ordered chicken marsala. I got a shrimp pizza that had great reviews. Jen also got the shrimp pizza. Jess got a pizza with shrimp on one half. Brett and Josue each got a different steak. We each got a big drink. Most 0f us got horchata, but Jen got fruit punch and Charmaine got limonada. Everything was really good, especially the horchata. That was some of the best horchata I've had. I only wish I had 3 or 4 times as much.
We heard later that it took Josue and Jen 90 minutes to get out of Antigua. Normally they would have been all the way home in about 20 minutes, but tonight it took almost 2 hours. We enjoyed a quick game of Skyjo, where I payed the newbie who lost every round. I'll get 'em next time.