We got up and ate breakfast earlier than usual this morning. It's Friday, which means we're not working, just trying to get our adventure on. Some of our previous attempts haven't worked out exactly the way we hoped, but nothing stands in our way today. We're headed to Lanquí­n to see Semuc Champey Natural Monument. It's about 200 miles each way, but it usually takes 8+ hours due to traffic, construction, narrow winding roads, slow trucks, etc. Our driver pulled his van up to the house at 8:00 and we headed out.
The road trip went about as well as could be expected. We had originally thought about doing this adventure one of our first weeks in Guatemala, but it was too rainy in Lanquí­n. If you want to swim in the caves, float the river, dive into the limestone pools, etc. you can't really have it flooding. Luckily the stars aligned for us this weekend and there's no chance of rain. It is going to be about 100 degrees and humid, but that's the way it goes.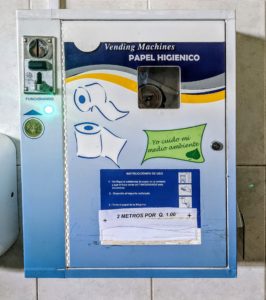 We stopped to eat twice on our way. The first time was in the middle of nowhere. Two main-ish sized roads came together and they built some gas stations and fast food joints. We wanted to either hit McDonald's or Pollo Campero, but instead we got a buffet style place where you have to buy your own toilet paper if you want to poo (which is actually pretty normal in this country, but not at McDonald's. At McDonald's the TP is included). Charmaine and I opted out and instead went outside where they were selling ice cream. I got a chocolate cone that was surprisingly good. I will get another one if I'm ever in a similar situation. Then we stopped again in Cobán, but this time we specified McDonald's. We know they have clean bathrooms and that they take great care to keep their food clean. Right next door they were having the grand opening of Panda Express, so globalization is still going strong.
Cobán looks like a really nice place. Unlike many places, there is virtually no trash on the street anywhere. The windows on most neighborhoods don't have bars protecting them, etc. We'll have to come back someday and explore it a little more.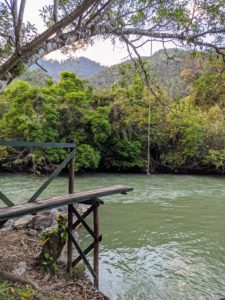 We arrived in Lanquí­n around 4:30 and it was still around 95 degrees outside. We checked ourselves in. We are staying at the El Retiro hostel. It's considered expensive in these parts, but it's like $40 per night per room, so it doesn't feel very expensive. It's right on the river and Nate and Brett wasted no time getting changed into swimsuits so they could jump into the river from the rope swing they've built. Unfortunately, the water below the rope swing is only 3 or 4 feet deep, so I didn't take that plunge. The deeper part of the river smells like garbage, which makes some sense because a lot of people throw their trash in the river. It's really sad and I hope this isn't the same river we'll be playing in tomorrow, because that will make for a bad experience. I'm not swimming in trash.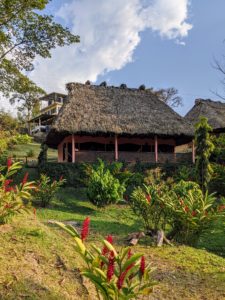 Charmaine spent an extra $5/night to make sure we got a "suite" at the hostel. I think it means we get a private room with a private bathroom and, most importantly, we get air conditioning. Brett and Jess got two private rooms, but they didn't get the suites. One room had an air conditioner in it, but they removed the remote so it couldn't be used. The other room didn't have one. Since it was so hot, Jess went to the front desk and got a remote so they could cool their room down, but the other room had no such luck.it
We thought it would be crazy to have three people in a room with no A/C so we invited Tessa to sleep in our room (we have two beds). It means Charmaine and I are sharing a small double bed, but it just makes more sense. Brett decided to share a bed with someone in the other room with A/C and that left Nate alone in his own room in the heat. He didn't seem to mind too much, but it's hard to know how he really felt. The air conditioner is working really well and has already cooled the room down to 25 C.
We booked a tour through the front desk for tomorrow. Then we went looking for dinner. There is a restaurant on site, but we decided to try the highest rated restaurant in town, which has a perfect 5 star rating after almost 50 reviews. Trip adviser had never let us down before, but it sure did tonight. La Flamenca didn't look like much, and it wasn't. I was wearing cactus juice, but still managed to get eaten alive waiting and waiting for our food… which turned out to be – hands down – the worst meal we have had in Guatemala. The steak was so chewy that we honestly had trouble cutting through it. The chicken was very overdone as well. So at least that discussion is settled.